Contents
Contribution Types
Concessional contributions are member payments transferred into your superannuation fund before the money has been taxed. In the fund, concessional contributions are entitled to a tax rate currently capped at 15% which is significantly less than the highest marginal tax rate applied to individuals (currently 47%). These payments may include employer super guarantee and salary sacrifice contributions, as well as personal contributions where you can elect to claim a tax deduction.
Non-concessional contributions refer to your super payments made after tax and most commonly include personal contributions where an income tax deduction is not claimed. These payments are not subject to tax in your fund.
While there are various ways to get money into your superannuation fund, you should keep in mind there are limits on how much may be contributed each year. These annual contribution caps specify the maximum amounts that can be contributed based on variables including your age and when the payments are transferred. We will now go through the different contributions and the relevant contribution caps.
Concessional Contributions
This financial year, concessional contributions have a cap of $25,000 which is available for individuals under 65 years old. If you are between 65 and 75, before accessing the maximum cap, you must satisfy the 'work test' which is equal to 40 hours worked within 30 consecutive days. If this is not met, then you will be only entitled to mandatory contributions such as employer superannuation guarantee amounts.
For personal contributions to count as a tax-deduction in the current financial year, you need to ensure the amounts are paid and accepted by the Super Fund prior to 30 June. Your superannuation fund will formally acknowledge the personal contributions to be reported as a tax deduction by accepting a 'Notice of Intent to Claim a Deduction' form. You will need to receive this acknowledgement letter from the fund prior to lodging your tax return the respective financial year.
It should be noted that if the total of your income plus any concessional contributions exceeds $250,000 this year, you may be liable for the additional Division 293 tax which is equal to 15% on your concessional contributions. This tax may be paid personally or directly from your superannuation fund when a request is submitted via the ATO.
Exceeding the Concessional Cap
Sometimes more is not always better as concessional contributions exceeding the annual cap may lead to additional taxes.
Amounts paid in excess of the cap will be assessed as part of your personal taxable income for the year and taxed at marginal tax rates, less a 15% tax offset for tax already paid on the contributions in your fund.
If contributions are paid over the cap, you will also be liable for the excess concessional contribution (ECC) charge which is currently applied at 3.02% on this additional income tax liability arising from the excess contributions (current as at March 2021).
Non-Concessional Contributions
The annual non-concessional contribution cap is currently $100,000 however this may vary depending on your personal circumstances including age and current balance in superannuation.
If you are under 65 years old, you may be able to access the 3-year bring forward rule. This would allow you to contribute up to $300,000 in one year, utilising the non-concessional caps available for the current and next 2 years.
Conversely, if your total superannuation balance is close to $1.6 million then you may not be able to make any tax-free contributions at all as your annual cap will be considered nil.
Exceeding the Non-Concessional Cap
If you ever exceed your non-concessional cap, the ATO will provide a couple of options to resolve the balance via a determination letter.
You can decide to leave any excess contributions in your superannuation fund which will then pay income tax on the excess contribution amount at the top marginal rate (currently 47%); or you can elect to withdraw the excess contributions, along with 85% of the associated earnings.
The associated earnings represent income attributing to the excess contributions, as calculated by the ATO. Under this option, your fund retains 15% of the associated earnings to cover the superannuation income tax liability. You will then be liable to pay income tax on the total associated earnings at your marginal rate, less a 15% tax offset (in recognition of the tax paid by your fund).
Other Tax Planning Strategies for Super
To maximise the concessional contributions available to you this financial year, there are a number of tax planning strategies you may consider depending on your personal situation. If performed before the end of the financial year, these strategies may allow you to reduce your tax liability while also increasing the balance of your superannuation.
Salary Sacrifice
To reduce your taxable income, you may request your employer to pay some of your salary or wages into your super account as additional super contributions. These contributions are also known as reportable employer contributions and are taxed in your super fund at the capped rate of 15% (provided the total remains under the annual cap). As the amounts reduce your taxable income reported in your tax return, it provides an opportunity to reduce the income tax payable by you.
Carried Forward Contributions
If your total superannuation balance was less than $500,000 at 30 June 2020, you may be entitled to access the carried forward contributions rule this year. Utilising your unused contribution caps for the prior 5 years, you can claim a tax-deduction for an amount above the concessional contributions cap of $25,000 for the year ending 30 June 2021.
Contribution Splitting
This financial year, you can make a concessional contribution on behalf of a spouse if their taxable income will be less than $37,000. If utilised, you may be eligible for an additional tax offset up to $540.
Additional Superannuation Considerations
As we are drawing to the end of another financial year, it is also a good time to review your annual obligations to withdraw from your superannuation fund. If your superannuation fund is currently in retirement phase, then there is a minimum you will need to withdraw prior to 30 June 2021 to avoid any unnecessary tax on your super earnings.
Pensions
When you reach retirement, up to $1.6 million of your superannuation balance can be moved into pension phase where all associated earnings in the fund are considered tax free. However, there is a minimum amount the ATO will require to be withdrawn each year. These drawdowns are known as your minimum annual payments for super income streams and to be the most tax effective, need to be taken out of your superannuation before 30 June each year.
This year, in response to the economic impact of COVID-19, the Government has halved the minimum annual payments required for members in retirement phase.
Minimum Percentage Factor (Indicative Only) For Each Age Group.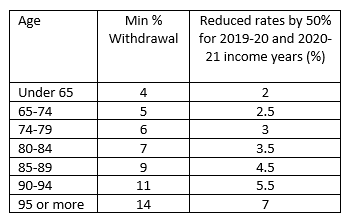 If you do not withdraw your minimum pension by the end of the financial year, your super balance in pension may revert back to accumulation, with all income then considered taxable.
The avenues available for your superannuation can be tricky to navigate and an area you want to make sure you get right to gain benefits rather than additional costs. We encourage you to discuss your superannuation management strategies and what they mean for you and your business, with our team at BLG who will help guide you in the right direction. There are many more opportunities to explore, so talk with us today.
*This information is relevant at the time of publishing and is subject to change*